Ministry Report Nov 2011
2011年 11月 22日
Happy thanksgiving!
"Those who sow with tears will reap with songs of joy. Those who go out weeping, carrying seed to sow, will return with songs of joy, carrying sheaves with them (Psalms 126:5-6)."
It's been chilly mornings and nights, even in Southern California. Fall has finally come.
I feel like this year has been flying by so quickly, especially since the birth of our second child and moving.
How are you all doing? Thank you, always, for your prayers and support.
♪SEEK2011♪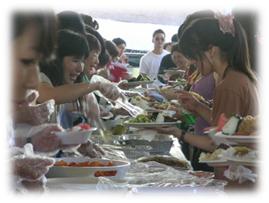 SEEK is a one-day evangelistic event, geared towards young people in the greater LA area. This year's SEEK, as well as previous years, began with a sports event, followed by Korean BBQ dinner, stage performance of rap music, dance, gospel choir, and finally an evangelistic message at the end of the night.
This year, 250 people gathered, of which half are not Christians. They came through outreach ministries in LA and invitations from individual Christian friends.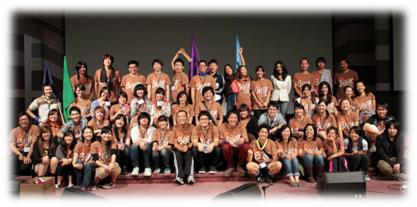 Every year, there are various challenges and drama, behind the scenes for those who prepare such events. This year, during the preparation time, I heard several core leaders sharing their fear and anxiety. However, with much prayer, SEEK went smoothly and closed in great success after all. Everybody carried out what they were entrusted with and did their best.
It was clear that SEEK was not people's but God's plan and that He did everything great and brought glory to His name.
Please pray for follow-up for non-believers who came to SEEK so that they will be led to a church and Christian fellowship and continually SEEK Jesus Christ.
♪Returnee Worship CD♪
I introduced four goals for myself in the previous newsletter. These are:
1.Starting a new bible study group for mothers in Irvine.
2.Mentoring (or Coaching) a few students or young adults.
3.Making new bible study materials and JCFN resources.
4.Do some ministry with my husband and/or family.
Thanks to God, each area has some progress. Especially, for my first goal, God gave me a new vision for a local ministry. It may start-up early next year. I will share with you in more detail in the next newsletter. Please pray for God's guidance for this.
Also, God gave me a new project for goal number 3: Resource for returnees. A couple of months ago, one of our staff came up with the idea of making returnee worship CD and the production has begun. We sought artists, who are either returnees or partnering with returnee ministry, to donate a song attached with a message for returnees. The product turned out wonderfully and I, too, am greatly encouraged listening to the CD.
This CD is going to be included in the returnee packet and distributed as a gift for returnees at
Equipper Conference
at the end of the year. Please pray that this project will finish strong and become a great encouragement for returnees.
♪Other Prayer Requests♪
1.Machiko Miki got her R-1 VISA and settled in the USA as an office staff. Thank you for your prayers. Please pray for her adjustment as well as her financial needs to be met.
2.Growth for those with whom we follow-up. Pray that amidst the Japanese culture, church, family, and other varying issues, these believers may remain connected to God, and that a Christian community will be provided for each one of them.
3.Setsu Shimizu (Kuroda)'s deputation. During her support raise, she will step aside from her daily ministry and Chihiro Nakamura will take her position. Please pray that Setsu's financial needs will be met soon so that she will be able to come back to the ministry. Also, pray for Chihiro who is serving as an interim director on top of her regular job description.
4.Please pray for the preparation for
Equipper Conference
at the end of the year. The last committee meeting was held on Nov. 12.
5.Please pray for church planting work for Japanese ministry at
Calvary Chapel La Habra
, where we are currently helping. Last month, a lady became a Christian as the first fruit. Hallelujah! Please pray that the Lord will send more people to the church.
6.Please pray that the Lord will meet my financial needs. (I need to raise approximately $1,500/ month this year and 91% was met in the previous six months.
7.Please pray that I can be a faithful servant, holding onto the calling from God as a minister, wife and mother.
8.Please pray for my home church, Takatsuki Evangelical Free Church.
Thank you very much for your prayers. God bless you all and have a great holiday season!!
In Him,
Yuko Ozeki
(U.S.): P.O. Box 17982, Irvine, CA 92623 USA Phone/Fax: 949-660-1236
E-mail:yozeki@jcfn.org Homepage:
http://jcfn.org
Online Donation is also available.
http://www.jcfn.org/donation