Ministry Report Feb 2012
2012年 02月 22日
"The coming of the kingdom of God is not something that can be observed, nor will people say, 'Here it is,' or 'There it is,' because the kingdom of God is in your midst." (Luke 17:20-21)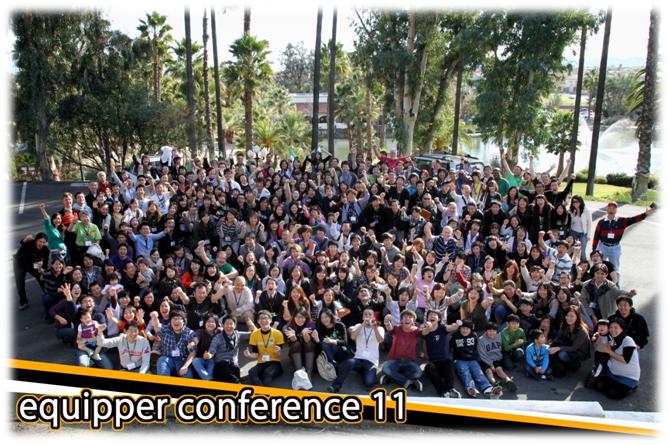 Thank you for your prayers. The 11th
Equipper Conference
was filled with many blessings. This year, we had about 300 people from all over the USA, Canada and Japan. We did have fewer participants from Japan than previous years. The theme was, "HERE I AM ~ The Kingdom of GOD is within us." It was an encouraging conference and we received a lot of challenges as we bring the Kingdom of God wherever we are sent.
We especially had a lot of programs related to the 3.11 Eastern Japan disaster. We had testimonies of volunteers, ministry opportunities, prayer time for restoration of the disaster-stricken areas, and even a skit that was related to the disaster. We were reminded again and again of the serious situation in Japan and how God is sending us as His ambassadors.
At this conference, I spoke at the returnee seminar and women's meeting. At the returnee seminar, I introduced "VIM" (Vision, Intention, and Method), a guideline of spiritual formation by Dallas Willard. I thought that it is very important for those who are returning to Japan to have a clear Vision of how they will live and what they do; Have a strong intention, and a concrete method to live out a Christian life in Japan. We then shared with each other our VIM. It was such a blessed time and I was greatly encouraged by their sharing. I was also grateful that the Returnee Worship CD was finally completed and were distributed to returnees after the seminar. Hope this encourages them, too!
It has already been a month and half since the conference was over and now we hear several new ministries began here and there, such as new outreach ministries and bible study groups in Chicago, Dallas, and Vancouver, Canada.
It is encouraging for us to see that those who come to EC do not just say that they are blessed but take a concrete step for the work of the Lord. Please pray that each one of the participants abide in the Word of God and live it out wherever they are.
 ♪BBWIT (Bridge Builder Whatever It Takes)♪
JCFN started the new ministry called, "BBWIT," a leadership training camp in Tokyo, Japan from February 24th to 26th. The purpose of this camp is to train Bridge Builders (those who follow-up and support returnees in Japan) to be good leaders for returnee ministries. We have had five WIT camps to raise leaders in the USA since 2007. Most of the WIT participants have returned to Japan and serve as leaders where they are. This time, some WIT alumni are involved in the BBWIT as planning committee members.
WIT in Japan has not only a clear focus to learn leadership skills in order to support returnees, but also a purpose to recruit and equip leaders to plan the 3rd
All Nations Returnees Conference
, scheduled in November 2012.
Please pray for this brand new ministry.
♪Other Prayer Requests♪
1.Growth for those with whom we follow-up. Pray that amidst the Japanese culture, church, family, and other varying issues, these believers may remain connected to God, and that a Christian community will be provided for each one of them.
2.We have lived in Irvine for nine months and recently moved to Aliso Viejo in Orange County. At the same time, we completed a short church planting term at Calvary Chapel La Habra Japanese Fellowship. We are now looking for a church to belong to and serve as a family. Please pray that the Lord will lead us to find it. Please also pray for God's continual guidance and blessings upon church planting work in Calvary Chapel La Habra Japanese Fellowship.
3.Please pray that the Lord will meet my financial needs. I need to raise approximately $1,500/ month this year and 108% was met in these two months. Praise the Lord!
4.We will have a JCFN US-Japan Joint Staff Meeting from March 15th to 18th. Please pray that we will be able to catch the God's vision and make a good plan for the ministry coming year.
5.Please pray that I can be a faithful servant, holding onto the calling from God as a minister, wife and mother.
6.Please pray for my home church, Takatsuki Evangelical Free Church.
Thank you very much for your prayers. God bless you all!!
In Him,
Yuko Ozeki